The San Diego World Affairs Council presents:
Bluford Putnam
Managing Director and Chief Economist of the CME Group
The vote for Brexit by UK voters has thrown into question London's role as the center of European financial markets. Financial contradictions in the Eurozone threaten the viability of the world's second most important reserve currency. Slow growth, fiscal austerity, and fear of financial turbulence in the years following the Great Recession have given rise to unparalleled central bank intervention and financial repression in the form of Quantitative Easing. Surging corporate debt in China has complicated that country's transition to a consumer-led economy at a time when China provides nearly 40% of economic growth worldwide. Waves of migration from inside and outside Europe have triggered a populist reaction throughout Europe. Income inequality and the perceived lack of opportunity are shaking political systems across the developed world (including the US) and are threatening global economic integration. Is the global financial system at risk of a serious breakdown due to policy error or political upset? The CME Group (formerly known as the Chicago Mercantile Exchange) plays an important role in the global financial market infrastructure. Bluford Putnam, Managing Director and Chief Economist of the CME Group will offer his insights into these critical issues in his presentation titled "Political Economy & the Challenges of Globally Integrated Markets".
Tuesday, October 18, 2016
6:00 – 7:00 PM Registration & Reception
7:00 – 8:30 PM Presentation
Location:
AMN Healthcare Theater, 12400 High Bluff Drive, San Diego, CA 92130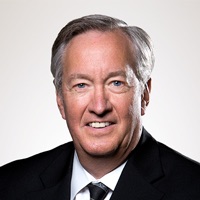 Bluford Putnam Biography
Bluford (Blu) Putnam serves as Chief Economist and Managing Director of CME Group. He is responsible for leading economic analysis on global financial markets by identifying emerging trends, evaluating economic factors and forecasting their impact on CME Group and the company's business strategy. He also serves as CME Group's spokesperson on global economic conditions and manages external research initiatives, as well as the company's data science and management analytics teams.
Prior to joining CME Group, Putnam gained more than 35 years of experience in the financial services industry with concentrations in central banking, investment research and portfolio management. He most recently served as Managing Partner for Bayesian Edge Technology & Solutions, Ltd., a financial risk management and portfolio advisory service he founded in 2000. He also has served as President of CDC Investment Management Corporation and Managing Director and Chief Investment Officer for Equities and Asset Allocation at the Bankers Trust Company in New York. His background also includes economist positions with Kleinwort Benson, Ltd., Morgan Stanley & Company, Chase Manhattan Bank and the Federal Reserve Bank of New York.
Putnam holds a bachelor's degree in liberal arts from Florida Presbyterian College (later renamed Eckerd College) and a Ph.D.in economics from Tulane University. He has authored five books on international finance, as well as many articles that have been published in the American Economics Review and Journal of Finance, among many others.
Light refreshments will be provided
AMN Healthcare
12400 High Bluff Drive, San Diego, CA, 92130