A Conversation With Joel Day
On October 24 the YLs were pleased to host Dr. Joel Day, a SDWAC board member and Director at the City of San Diego, who now oversees the City's 49 public boards and commissions. Always an engaging speaker, Joel shared his compelling (and at times quite personal) story: the development of his passion for public service that has led him to a career in the field of international relations and security, including his current role with the City. He addressed a full, attentive and largely youthful audience, weaving key life lessons and personal insights throughout his talk, followed by a dynamic question and answer session.
Wednesday, October 24, 2018
Registration and Networking: 6:00 - 6:30
A Conversation with Joel Day: 6:30 - 7:30
Q&A: 7:30 - 8:00
Location: United Way of San Diego County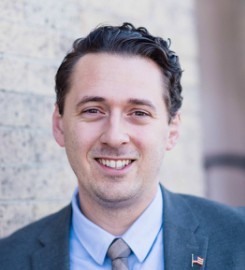 About Joel Day:
Joel Day is a Director at the City of San Diego, where he oversees the City's 49 public policy Boards and Commissions. He also liaisons as a homeland security advisor on issues of violent extremism and targeted violence. In this capacity, Joel supports San Diego's neighborhoods in dozens of areas of public policy. Joel is also a Visiting Research Scholar at the University of San Diego's Kroc Institute of Peace Studies and a National Security Fellow of the Truman National Security Project.
Joel earned his Ph.D. from the University of Denver in International Studies, holds an M.A. in International Relations from the University of San Diego, and a B.A. in Political Science from Point Loma Nazarene University. In addition to advocacy, research, and policy work, Joel is enthusiastic about his wife and son, beaches, baseball, and San Diego's world-class hipster coffee and cuisine.