August 25, 2017
A Message From the President of SDWAC

John Schlosser is on travel in August and we will resume the President's message in our next newsletter.

UPCOMING EVENTS
San Diego World Affairs Council Presents
U.S. Alliances in the Indo-Pacific: A
Practitioner's Perspective
Featuring
Ret. Vice Adm. Robert Thomas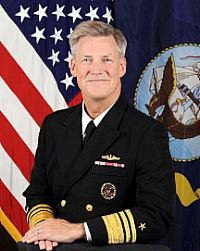 With nearly half of the world's population, and a dynamic military, economic, and geopolitical environment, Asia is on course to shape global events over the remainder of the 21st century. Robert Thomas, former U.S. Navy 7th Fleet Commander, will examine the current state of U.S. alliances in Asia, the 7th Fleet's posture in the Western Pacific, and security treaties affecting this part of the world. He also will discuss coming changes to the international order, and how U.S. security interests in Asia will be redefined.
About Our Speaker
As 7th Fleet Commander, Vice Adm. Thomas oversaw operations of roughly 5,0­70 ships and submarines, 140 aircraft, and 20,000 sailors. Previously, he served on fast-attack submarines. After retiring in early 2017, Vice Adm. Thomas became a Senior Research Fellow with UC San Diego's Institute on Global Conflict and Cooperation. He holds a bachelor of science in civil engineering from UC Berkeley and a master of arts in national security studies from the National War College in Washington, D.C.
Monday, August 28, 2017
6:00-6:30 p.m.Registration & Reception
6:30-7:30 p.m.Presentation
7:30-8:00 p.m. Q&A
Location:
National University Corporate Headquarters, Sanford Center Auditorium
11355 North Torrey Pines Road
La Jolla, CA 92037
NORTH COUNTY CHAPTER



NCC WAC Programs for September 2017

September 7: Agent Joshua Wilson, Vice President, National Border Patrol Council, Local 1613 (San Diego) will present, "The Reality of Protecting the International Border by the Border Patrol and Other National Security Agencies – Where Are We Today?" discussing the U. S. southern border, 2,000 miles long, traversing a variety of terrains, ranging from major urban areas to uninhabitable deserts, with 1,000,000 people legally crossing each day. There will be a RTL for members after this meeting, please contact Tom Reeve at TPReeve72@gmail.com if you wish to attend.




September 14: Mr. David Murphy, Executive Director, International Rescue Committee (IRC), San Diego, will explain the "International Rescue Committee (IRC) – Flight of Immigrants.," focusing on the role of the IRC dealing with refugees, who they are and their countries of origin; setting up refugee camps overseas; the refugee resettlement process, and what refugee resettlement agencies do for newly arrived refugees in San Diego. There will be a RTL for members after this meeting, please contact Farouk Al-Nasser at farouk1@cox.net if you would like to attend.




September 21: Mr. George Novinger, former Deputy Chief of Mission at the American Embassy in Damascus until shortly before the conflict began in Syria, will discuss the "Current Trends and Background of the Syrian Conflict," delving into the complex political, social, economic, and religious problems that led to Syria's descent and its current situation and prospects for the future. His final posting was in Los Angeles as Reginal Director of the State Department's Office of Foreign Missions for the Western States.




September 28: Professor J. Michael Williams (J.D., Ph.D.) from USD's Department of Political Science, who has been visiting South Africa and conducting research there since 1998, will focus on "The State of South Africa's Democracy in 2017," 23 years after the end of apartheid, discussing and analyzing the broader factors that influence the decisions of political leaders and the efforts of individuals and organizations in rural South Africa to enhance democracy. There will be a RTL for members after this meeting, please contact Phyllis Murchland at pmurchland@san.rr.com if you would like to attend.




NCC World Affairs Council Meetings are held on Thursdays at The Remington Club, Phase II, 16916 Hierba Drive, Rancho Bernardo located behind Vons Market. (Please do not park in the Club's parking area).




Time: 9:30am

Reception & Sign-in; 10:00am

Program (1 hr. presentation + 1 hr. Q&A)




Join SDSU's College of Arts and Letters for a Trip to Cuba!




Join an exciting SDSU opportunity - an exclusive excursion to Cuba, March 9-16, 2018. As it is a country on the cusp of significant historical change, many people are eager to travel to Cuba, and this could be your chance for an eye-opening adventure, specially designed to cast a spotlight on the fascinating past, present, and future of a Caribbean nation-off-limits to most Americans for over half a century.

This intimate, small-group journey for SDSU alumni and friends features interludes in lively Havana, charming Santa Clara, and the wonderfully preserved towns of Cienfuegos, Trinidad, and Sancti Spiritus.

This trip is limited to just 25 travelers. We are working with Go-Next, Inc., a well-respected and experienced tour operator, which is conducting tours to Cuba this year for over 40 universities. Please see the flyer and brochure for more information.




Cuba Trip 2018 Flyer and Brochure




Payment for the tour must be made by November 17, 2017.






Wednesday, August 23, 2017
Afghanistan on the Brink; North Korea: Weighting the Options; Terror in the Philippines; Rain on Hong Kong's Umbrella Movement; Angola's Historic Vote; Our Pale Blue Dot
Quote of the Week:
"You have to be able to both fight and talk. And you have to be able to prove that you're willing to do both for a long time. That's been lacking in our policy. I think we're now maybe correcting that."
-- Ronald E. Neumann, former U.S. Ambassador to Afghanistan, speaking Aug. 22 on NPR's All Things Considered.
"In Pivot, Trump Vows to 'Win' in Afghanistan" Alex Simendinger and James Arkin -- RealClearPolitics, August 22, 2017
"America's Former Envoy to Afghanistan: The War Can't Be Won" Sean Illing -- Vox, August 22, 2017
"Trump's Welcome Self-Correction" Editorial Board -- The Washington Post, August 23, 2017
"America Is Out of Ideas in Afghanistan" Susan B. Glasser -- Politico, August 22, 2017
"Trump's Depressingly Normal Speech About Afghanistan" James Fallows -- The Atlantic, August 21, 2017
"Pakistan Exasperated by Wavering U.S. Afghan Policy" Kiran Stacey and Farhan Bokhari -- Financial Times, August 22, 2017
North Korea: Weighing the Options
"Take Preventative War with North Korea off the Table" John Delury -- Foreign Affairs, August 22, 2017
"A Second Korean War Could Quickly Spread Across All of Asia" Brendan Scott and Adrian Leung -- Bloomberg, August 21, 2017
"Don't Count Japan Out in the North Korea Crisis" Grant Newsham -- The National Interest, August 22, 2017
"Understanding North Korea" Doug Irving -- RAND, August 18, 2017
Terror in the Philippines

Rain on Hong Kong's Umbrella Movement

"Legal Terrorism? Hong Kong's All-Out Attack on Pro-Democracy Parties" Kong Tsung-Gan -- Hong Kong Free Press, August 21, 2017
"Is This the End of Hong Kong's Fight for Democracy?" Lee Lian Kong -- Asian Correspondent, August 22, 2017
"Hong Kong's Rapid Descent into Authoritarianism" Editorial Board -- The Washington Post, August 19, 2017